NOG
mouse
In-Vivo Science Inc. has started to provide NOG mouse.
We have contacted to distribute NOG mice, created by Central Institute for Experimental Animals, to the for-profit organizations since December 1st, 2013. Please feel free to contact us at any time with questions about your experimental needs.
In addition, we provide humanized NOG mouse.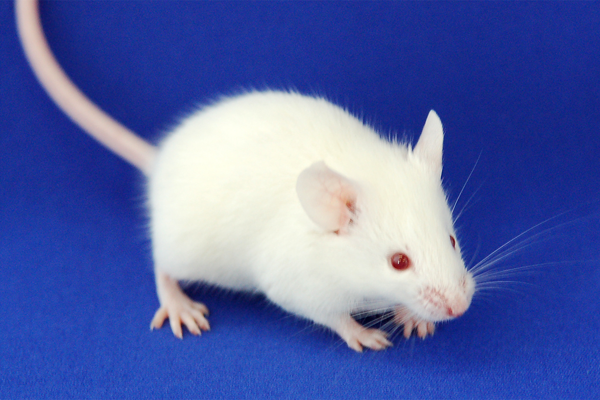 (Formal name) NOD.Cg-Prkdcscid II2rgtm1Sug/Jic
(簡略名)NOD/Shi-scid, IL-2Rγnull
Japanese patent No. 3,753,321,
US patent No. 7,145,055,
EU patent No. 1,338,198
Japanese trademark registration No. 4,823,423,
US trademark registration No. 3,118,040,
EU trademark registration No. 3,736,75f8


CIEA's Humanized NOG mouse
---
NOG mouse is highly immunocompromised even as compared to other strains such as NOG/Scid and Nude mice, and more robust engraftment of human cells has been shown. When human hematopoietic stem cells are transferred to NOG mouse, the stem cells differentiate into mature lymphocytes and reconstitute human immune system in the mouse body. This makes it possible to create models to study cancer, viral infection and allergy in human specific manners. Humanized NOG allows to explore; ・Cancer immunotherapy such as immune checkpoint inhibitors and cancer vaccine by grafting  human tumor to the humanized NOG mice ・Infectious diseases specifically targeting human immune systems by infecting humanized  NOG mice with virus such as HIV, HTLV and EBV ・Allergic diseases mediated by human immune-systems by administration of specific antigens,  antibodies and human cytokine Currently, we produce humanized NOG mice in made-to-order basis, and usually we deliver the humanized mice 12 weeks after receiving an order(*1). We also provide contracted research such as drug efficacy testing using Xenograft models(*2). Similarly, we can also provide custom-made models by implanting human cells provided by customers such as CAR-T and other engineered cells to NOG mice. (*1)The lead time of 12 weeks is applied when we have stocks of hematopoietic stem cells.If not,   we need to purchase new batch of cells. (*2)Usually, we ask clients to provide specific tumor cells to be grafted.In case of commercially   available materials,clients can specify them for us to purchase.
Characteristics of humanized NOG mouse
・Cord blood CD34(+) hematopoietic stem cells (HSC) are implanted. The majority of the stem cells  differentiate into T cells and B cells and populate in peripheral blood, spleen and bone marrow.  Small populations of the stem cells differentiate into NK cells, macrophage and monocyte.(*1) ・In the next generation NOG mice, which express specific human cytokines, developments of  leukocytes other than T cell and B cell are also supported. These leukocytes includes myeloid cells  (monocyte, macrophage, mast cells in IL3/GM-CSF Tg NOG), NK cells (in IL2 Tg NOG) and  immunosuppressive macrophages (in IL6 Tg NOG)) ・Humanized NOG mice survive over 6 month. Up to 20 weeks after stem cell implantation,  the chimeric ratio is maintained.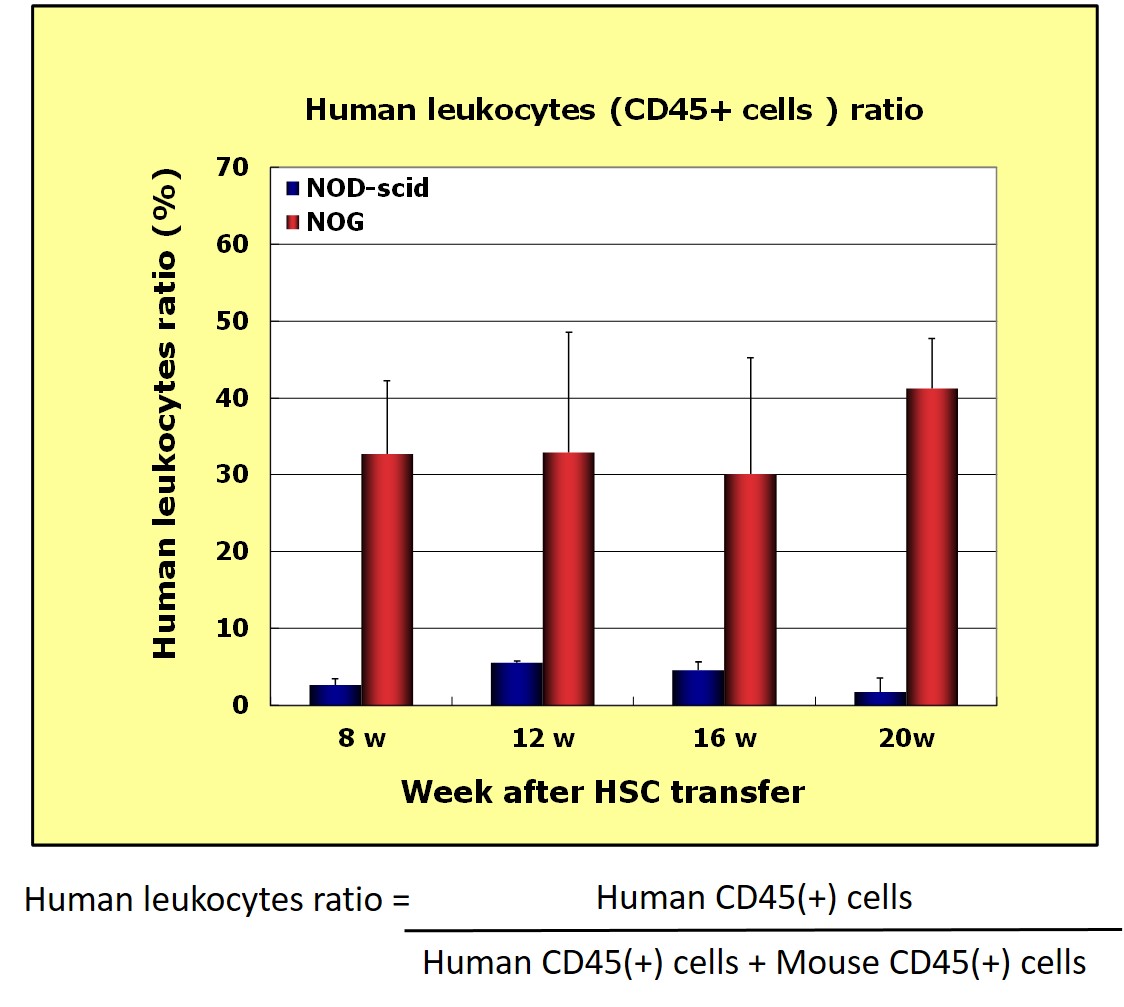 ・Usually no graft versus host disease (GVHD) occurs when the hematopoietic stem cells are implanted.  Even after reconstitution of human immune system, human cancer cells can be engrafted in most cases. ・Cytotoxicity of CD8 T cells and its stimulation by drugs and cytokine has been demonstrated. ・Production of antigen-specific IgM has been demonstrated(*2) ・In the United States and Europe, TACONIC Bioscience Inc. provides humanized NOG.  TACONIC Bioscience and In Vivo Science (CIEA) follows the same production standards. (*1)11 weeks after HSC transfer, majority of human leukocyte consists of T cells and B cells.   Mouse macrophages co-exists in the system (*2)Human IgM specific to model antigens, DNP-KLH and ovalbumine, were produced in the past
CD34(+) HSC grafted humanized NOG mouse production steps
1.After receiving an order, we acquire NOG mice delivered from CLEA Japan to the CIEA where the stem cells  are transferred. 2.The mice are irradiated with X-rays to kill mouse bone marrow cells to an extent to create niches. 3.The next day, cord blood CD34(+) HSC are injected from tail vein. 4.11 weeks later, chimeric ratio (percentages of human CD45(+) leukocytes over total leukocytes)  is determined by flow cytometry.We usually deliver mice with chimeric ratio of more than 25%. 5.As an option, we can also deliver the mice one week after HSC transfer.  In this case, the price will be lower but the chimeric ratio is not determined Note: HSC-grafted humanized NOG mouse were in part made of clinical specimen (i.e. cord blood HSC). Upon request, we can provide material datasheet of HSC. Please follow the regulations and rules applied to your institution
Order and questions please contact us

Characteristics of the NOG mouse
---
Lack of T and B cells
Lack of NK cells
Decreased function of dendritic cells
Decreased function of macrophages
Lack of alexin activity
T and B cell leakiness due to the aging is not observed

●more info

Humanized models using the NOG mouse
---
Human hematopoietic system and human immune system model
Human liver model
Human cancer-bearing model
Human infectious disease model
GVHD model
Other models